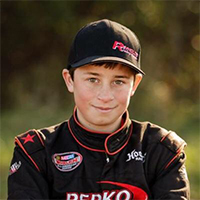 I became interested in racing from watching the NASCAR Sprint Cup series on television with my grandfather.  At age eight, I went indoor karting.  That led to lessons on driving a kart, which led to running their karting race series, which led to meeting people that raced quarter midgets, which led to racing quarter midgets, which has led to Late Models. I consider my first real race to be my first quarter midget race when I was nine years old.  During my first year of quarter midgets, we spent every weekend at the track. It didn't matter how hot or how cold it was. If we weren't racing, we were practicing. I would spend all day running laps. All of the hard work at the beginning paid off later.  I "retired" from quarter midgets in 2014 with 115 wins and 20 championships between all of the local, southeast regional and USAC national races for the five years I raced quarter midgets.
I began racing Limited Late Models toward the end of 2014 at the age of 14, so it seemed appropriate to mark my start by racing the number 14.  2015 marked my first year racing Late Models primarily at Motor Mile, South Boston, and Hickory Speedways in the NASCAR Whelen All-American Series.  That year posted my first Limited Late Model win and was awarded Motor Mile Speedway's Rookie of the Year for Limited Late Model.
In 2016 I moved up to Late Models racing at Motor Mile Speedway, South Boston, Hickory and Caraway Speedways.  In 21 starts, I posted 18 top ten, eleven top 5 finishes.   Again, I was awarded Motor Mile Speedway's Late Model Rookie of the Year and the UNOH Youth Achievement Award.   2016 was also my first appearance at the Martinsville ValleyStar 300 where I qualified third overall and finished ninth in the feature race.
I am a high school Senior at North Lincoln High School enrolled in the academic honors program and am also a member of the National Beta Club.   My plans are to pursue college in an engineering or technical field while pursuing my racing career.
2016:  NASCAR WAAS Late Model Stock
Motor Mile Speedway Late Model Rookie of the Year
UNOH Youth Achievement Award
21 Starts; 1 Pole;  11 Top Five Finishes;  18 Top Ten Finishes
Martinsville ValleyStar 300 first appearance;  qualified 3rd overall; 9th place feature finish
2014 - 2015:  NASCAR WAAS Limited Late Model
Motor Mile Speedway Limited Late Model Rookie of the Year
Seven Top 4 Finishes out of 11 Starts
First Win - July 27th, 2015, Motor Mile Speedway, Radford, VA
2010-2014:  USAC .25 Midgets
Total Career Wins (USAC National, Regional, & Local): 115
Total Career Championships: 20
NCQMA Track Records: 15
2013 Triad Sports Coverage Driver of the Year
Triad Sports Coverage Athlete of the Week 7/22/2013