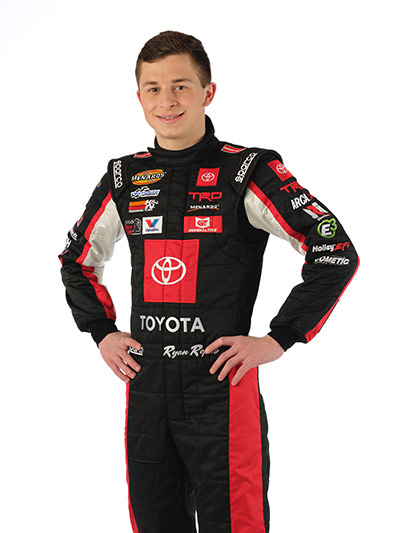 I became interested in racing from watching the NASCAR Sprint Cup series on television with my grandfather.  I began competitive racing at the age of ten in quarter midget race cars. I took to the cars quickly, winning in just my second start at a USAC Generation Next national series event.  I "retired" from quarter midgets in 2014 with 115 wins and 20 championships between all the local, southeast regional and USAC national races for the five years I raced quarter midgets.
2015 marked my first full season racing Limited Late Models, primarily at Motor Mile, South Boston and Hickory Speedways, as well as capturing my first stock car win at the age of fifteen.  The following year, I moved up to the Late Model Stock division. My break-through win in Late Models came at Anderson Motor Speedway in 2016 holding off the eventual national champion that year. In 2016, I also made my ARCA Menard's Series debut. I continued Late Model racing and developing my driving skills enabling me to win 25% of the races I started in 2018. My Late Model career wins include the prestigious Bobby Isaac Memorial 150 at Hickory Motor Speedway and the CARS Tour Throwback 276 where I had the privilege of honoring racing legend, Dave Marcis, with one of his former paint schemes. While racing Late Models from 2016 through 2019, I also made select starts in the ARCA Menard's Series as well as, in 2019, starts in the NASCAR Xfinity Series.
I graduated from North Lincoln High School where I was enrolled in the academic honors program and was a member of the National Beta Club.   I continue to race in series beyond Late Models while enrolled at the University of North Carolina Charlotte.
2019:
NASCAR Xfinity Series - JD Motorsports
Finished 22nd, 25th, and 19th at Iowa and Richmond
Late Model Stock - Reynolds Racing Chassis
15 starts; 3 wins
CARS Tour Throwback 276 at Hickory Motor Speedway
Two wins at Southern National Motorsports Park in NASCAR Whelen All-American Series
8 Top 5's; 12 Top 10's
2018:
ARCA Menard's Series start at Nashville - Mason Mitchell Motorsports
Late Model Stock - Reynolds Racing Chassis
Two wins at South Boston in NASCAR Whelen All-American Series
Hickory Motor Speedway NASCAR Whelen All-American Series
Bobby Isaac Memorial 150 at Hickory Motor Speedway
9 Top 5's; 12 Top 10's
2017:
ARCA Menard's Series start at Madison International Speedway
Late Model Stock - Reynolds Racing Chassis
19 starts; 1 win
10 Top 5's; 4 poles; 17 Top 10's
2016:
Late Model Stock - Rookie Season - Reynolds Racing Chassis
Rookie of  the Year - Motor Mile Speedway
23 starts; 11 Top 5's; 19 Top 10's
2015:
Limited Late Model - Rookie Season - Reynolds Racing Chassis
Rookie of the Year - Motor Mile Speedway
11 starts; 1 win
2010 - 2014: 
USAC Quarter Midgets
115 wins and 20 championships between local, southeast regional and national races